General contracting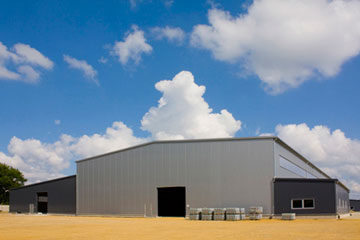 PaNELTECH company renders comprehensive services in the field of modernization and general contracting of industrial facilities, including:
storehouses and production halls,
coldrooms and freezers,
office facilities and social areas,
garden facilities and livestock buildings,
sports facilities,
supermarkets and hipermarkets,
car showrooms together with auxiliary facilities,
meat and milk processing facilities.
Our undeniable advantage is our experience, extensive opportunities and the fact that many materials applied in the building process is produced internally and our clients can be sure of the diligence of the performed works as well as durability and quality of used materials.
It is worth mentioning that several hundred facilities have been erected so far with the application of our Modern Building System.
As a general contractor, PaNELTECH company cooperates exclusively with proven suppliers and sub-contractors.
Scope of works
As a general contractor, PaNELTECH company performs construction and mounting works both on its own account and by means of proven and experienced subcontractors.
PaNELTECH Modern Building System
PaNELTECH Modern Building System is the system of lightweight design with the application of sandwich panels, in which the company offers:
sandwich panels with polystyrene or mineral wool core,
flashings,
fastening and fitting materials,
roof light,
aluminium and PVC joinery,
steel structures,
industrial and coldroom doors,
gates and Hörmann handling systems.
We also build facilities with trapezoidal sheet facing or facade cladding.